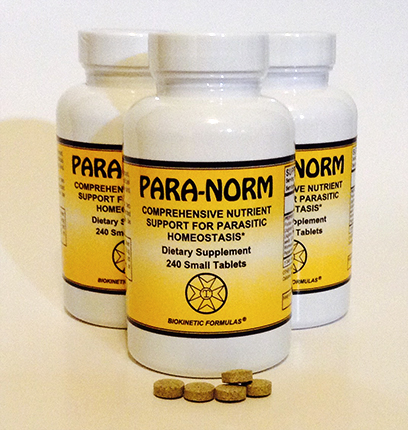 Para-Norm: Comprehensive Nutrient Support
for Controlling Parasites
Parasites are a major health concern for everyone in every country. No one is exempt. We all have parasites.
The irony of this is that just like all the other critters such as bacteria, fungus and viruses, we need them. However, they must stay in balance with the rest of our system.
When we get out of balance, parasites over-populate and pave the way for other outside, very destructive parasites to enter. This is what is happening today due to the toxic state of our world. Add to this, our poor diets and impacted colons, and you have a great breeding ground for all sorts of bugs and nasties.
Possible symptoms from having a parasite imbalance are abdominal distress, diarrhea, constipation, bloated feeling, urinary tract burning or cramping, fatigue, frequent colds, flus, other infections, and allergies.
Click
here
to order.
---
---
Purerxo Products - Neutracuetical Grade Nutritionals

I highly recommend these products from Purerxo.

My Product Picks

- seven products I recommend checking out.

Women's Health Products

- six pages of great nutritional supplements for women.

​

Men's Health Products

- Four pages of great supplements for men.

Tell them Justin sent you!

Please Note: The links above lead to our affiliate page on Purerxo.com. Although we recommend these products, they are sold to you directly by Purerxo. Any offers or discounts you find there are made by Purerxo, which is owned and operated by a separate company from TheHumanMRI.com.
---
Wonderweight® Hawk - $89.00

This is our most popular model and may be considered for most individuals, from teenagers to adults. The "Hawk" Medium Wonderweight (approx. 3 lbs.).

Made in the U.S.A.

Click

here

to order.
---
Wonderweight® Eagle - $89.00

The "Eagle" Heavy Weight (approx. 4 lbs.) for the advanced athlete. If you are seeking to breakthrough to a new level of fitness, the Eagle is your choice. Its extra weight may help you to advance your muscle tone and strength.

Made in the U.S.A.

Click

here

to order.
---
Wonderweight® Sparrow - $89.00

Our lightest model at just under 2 lbs. They are perfect for younger athletes, or those who want to improve in all ranges of motion. For rehabilitation or injured shoulders as well as for advanced professionals.

Made in the U.S.A.

Click

here

to order.
---
Double Helix Water® - $59.00

(1 month supply)

Each ounce of Double Helix Water lasts the average user, one month via a few drops a day. It is also recommended that it be mixed with a gallon of distilled water to dilute it, or may be a few drops at a time, directly.

This medical grade product is 100% Ultra-pure Stable Water Clusters. Size: 15 ml bottle = 1 Ounce. Its small size and convenience is great for travel. Does not need to be refrigerated.

Made in the U.S.A. Includes free shipping.

Click

here

to order.
---
Double Helix Water® - $165.00

(3 month supply)

A 10% savings on a 3-month supply for the average user.

Greater discount pricing available for both individuals and medical professionals by calling 1-888-774-3667.

Made in the U.S.A. Includes free shipping.

Click

here

to order.
---
Double Helix Cream® - $40.00

Described as the "Miracle Cream" because of its myriad of uses and its ability to help heal many different type of issues. Whether for an athletic strain and muscle injury, or skin blemish, clients have seen remarkable improvements in only a few days to a few weeks.

When used topically, it helps to increase immune response at

that specific injury site

as well as engage the body's natural healing process as well. Great for also helping with issues like acne and healing the underlying layers in the skin.

Made in the U.S.A.

Click

here

to order.