These are a few of the testimonials I have received over the years. If you would like to add yours, please

e-mail

me.

Justin Elledge, The Human MRI

Out of this Body Experience


"My session with Justin was an "out of this body experience" I felt like an infant all curled up ready to head into the birth canal. During the session I felt so much compassion and love coming from Justin, the angels, the universe. No judgement, only Love as I cried my heart out... Thank you."

​

Miriam L. Pittsburg, Pennsylvania
Crazy Amazing!
"My appointment can be summed up in 2 words: Crazy Amazing! I laughed and cried and received some deep insights that I felt but needed confirmed. Justin was even gracious enough to answer a question via email after my session was over. His gift is truly a gift to us." Barb G.

"He saw many other things which I had never mentioned to anyone and which, thereafter, no longer seemed mysterious to me and improved in condition. Justin saw THINGS! Objects, energy blockages, the density, health, chemical composition, toxicities, energy fields of tissues. He saw them with such clarity and insight that – having had this experience, which I recommend to all – I am absolutely sure (for myself) that this must be a natural and true ability of pure consciousness, as valid as – or perhaps more valid than – ordinary sight.
Nancy Batchelder, Researcher, Los Angeles

"Justin was not only able to see the imbalances in my body/mind complex, but was able to tell me specific remedies for each. Those remedies are working! They are simple, natural, easily obtained, and don't have side effects. Some of my problems I've had for more than 20 years, and they are finally going. I am feeling better than ever – more balanced, more energetic, clearer, and an added bonus – sleeping better. I am so grateful for his "in-sight!"
In gratitude, Farion P.

"Justin, I am grateful to you and I will heal. I have to. I am still trying to comprehend the scope of my session with Justin today. I have never had the pleasure to meet someone like him, to have him cross my life path, and I believe he is an extraordinary person. I have no idea how he described me to a T, remotely. Everything he said about me was smack on. He "saw" emotions inside of me, as well as honed in on the tiniest of health issues. I am blown away by not only his gift of viewing, but his kindness, generosity and true sincerity of wanting to help. This session was quite an experience and I would urge you not to hesitate at all about speaking with Justin!"
Sharon E.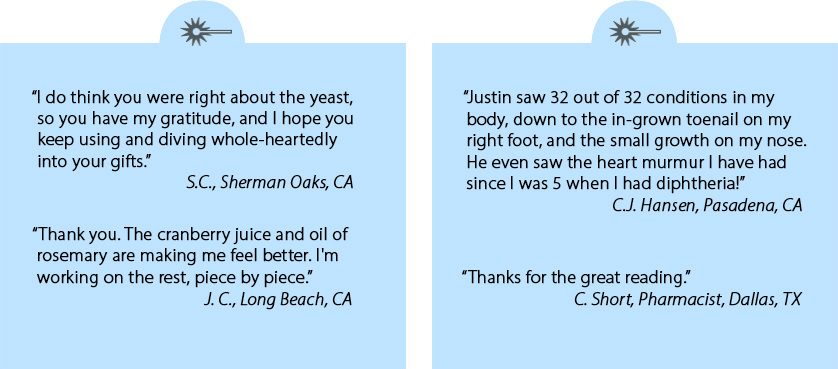 "I just this minute realized that you must have had something to do with the amazing decrease in upper back pain I have experienced this past week. I was wondering what happened to it, and just remembered you had done a healing on C1 and C2 from some trapped energy there. It must have filtered further down my back too. Wow! That is VERY COOL. Thank you for that. Back pain has kept me from being more physically active in the past – which is another reason I was not able to lose any significant amount of weight."
Evelyn B.

"Justin – Thank you for the prompt response – greatly appreciated! This is T.M. here. My mother "H" says she felt that you had a wonderful connectedness and she felt fantastic after the spoken word meditation. Her mood was much lighter, and she could see herself making it a part of her daily routine. Thank you so much for taking time to schedule and review my health. I am beyond excited to hear what insight you have to offer. Cheers!"
T.M., Pennsylvania

"Per our session, I asked the dentist to check out my left side: It turns out there are five decays under old crowns! Glad you tipped me off to have him search. Hard to tell as between teeth, but now the dilemma of cost...but at least we will prioritize the order of fixing. Once again, thanks for your help. I feel it has been a worthwhile investment, for both what I learned anew, and for it supporting my own confidence in my hunches."
A hui hou, malama pono, Pamela P., Hawaii

Not only was he able to pinpoint areas of imbalance in my body – he was also able to use his extensive gifts to pinpoint areas of challenge in my personal and business life – and give me pivotal guidance. THAT'S RIGHT, not only can Justin Elledge use his considerable gifts to guide you in your health, he can also guide you in personal and business issues! I have had the good fortune of having my health questions answered by Justin.
Taafe O'Connell, The Power Agent Reporter

"You said I had a problem with my teeth on the left lower jaw. I have been religiously gargling with coconut oil 2-3 times a day since the reading. I have also been sedating the meridian representing the problematic teeth. My teeth feels much better, (not yet 100%) but much better. Also, you also mentioned that my ileocecal valve was not closing properly. I looked up how to close it in the internet as you suggested. It was very easy to do and it works. Just to let you know, I had this pain in my abdomen (RLQ) for so many years. Had several CT scans, ultrasounds, colonoscopy, and could never figure out what was wrong and now it is gone! Thank you, Thank you, Thank you."
Cora C.

I was going to wait a few days before emailing you, but I can at least update you on what happened after our session.
When I hung up the phone I was thinking - Oh my gosh, I didn't even get to the really pressing physical issues.
I should have had a 2 hour session! Oh well, who knew????

Anyway, I was extremely grateful for what took place and I do understand that I was given exactly what I needed to know at that moment, so no worries. The rest will come in time.

Saturday night I did the ceremony to let my "ghost child" go. I've never done a ceremony like that before, but it was very interesting and powerful – even getting everything together for it was amazing. I kept adding things to the ceremonial bowl – like some holy water, crystals, shells, and some sand from the Santuario de Chimayo in New Mexico. (Have you ever been there? OMG I could not stop crying the entire hour I was in that building. I was overcome by the healing energy and all the letters on the walls from people who had experienced dramatic healings. Incredible experience!). Between the healing you gave me, and what I did, something definitely worked. I lost an entire pound the next day – even with eating something loaded with sodium (which normally would have put on an extra 2 or 3 pounds!) Each day since, no matter what I eat, I keep losing a half a pound! How exciting is that!? Woo Hoo!

On Monday, I decided to find out what physical location I was in this lifetime where I crossed paths with my "ghost child." It wasn't hard to figure out. May 2000, Winslow, Arizona area. My sister and I were driving from Albuquerque to Sedona (spiritually open after the above-mentioned Sanctuary visit), and had decided that we would likely be tired after tramping around the Petrified Forest area, and aimed to spend the night in Winslow before carrying on the next day. When we arrived in Winslow, I was appalled at how the place looked, and felt a bit weird. We stopped at a Native gallery and had a wonderful chat with the owner, but when we got outside, I said to my sister – I have to get out of this place. It makes me feel awful. (Can't say that has every happened before.) We left town immediately.

The information I got from my Higher Self and Guides on Monday is that somewhere around Winslow is the location I picked up on that past life. Looking back on the incident, I can imagine that a person would not want to stay somewhere they had been banished from – or died! Hence the urgency to leave town! Anyway, as far as I know, it's done. I don't even sit with my hand on my belly anymore! Thank you so much for that! Thanks for the great reading."
C. Short, Pharmacist, Dallas, TX

"I do think you were right about the yeast, so you have my gratitude, and I hope you keep using and diving whole-heartedly into your gifts.
S.C., Sherman Oaks, CA

"Thank you. The cranberry juice and oil of rosemary are making me feel better. I'm working on the rest, piece by piece."
J.C., Long Beach, CA